When it comes to transforming your bathroom into a space that seamlessly blends quality and style, Pure Builders Inc's Bathroom Renovation stands out among everyone else. Your bathroom is not just a functional space; it's a sanctuary of relaxation and rejuvenation. That's why it deserves a makeover that not only meets your practical needs but also elevates the aesthetics of your home. Let's take a look at the comprehensive bathroom renovation services we offer and discuss why choosing professionals is the key to achieving the bathroom of your dreams.
Pure Builders Inc's Bathroom Renovation in Pacific Palisades
When it comes to bathroom remodeling, our approach is rooted in tailored designs and efficient project management. We begin with a detailed consultation where we listen to your preferences, needs, and budget. Our experts then craft designs that align with your vision, ensuring a unique and personalized bathroom renovation experience. Throughout the project, our efficient project management ensures that your bathroom renovation stays on track and is completed within the agreed-upon timeline. Let's take a look at the services we offer under our bathroom renovation service: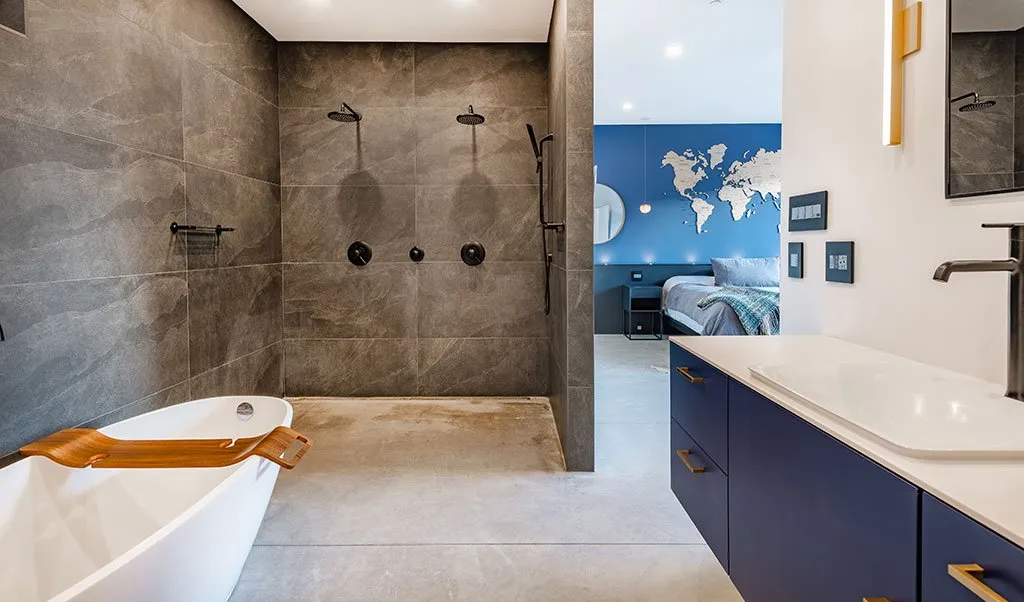 Before the renovation process begins, our design consultation sets the stage for a successful project. We engage with you to understand your design aspirations, creating a blueprint that combines functionality and aesthetics seamlessly.
Plumbing and Electrical Work
Our team of skilled plumbers and electricians handles all plumbing and electrical installations with precision, ensuring that your bathroom functions flawlessly. From installing pipes and fixtures to wiring for lighting and appliances, we leave no detail overlooked.
The finishing touches matter, and our experts pay attention to even the smallest details, including color coordination, to create a harmonious and inviting atmosphere in your bathroom. Our painting and finishing services ensure that every element comes together seamlessly.
Tiles are a defining element of your bathroom's style. We offer a wide range of tile options, including materials, colors, and patterns, to suit your taste and style. Whether you prefer classic ceramic tiles or modern glass mosaics, we've got you covered.
High-quality fixtures are essential for both functionality and aesthetics. From faucets to showerheads, we source and install fixtures that not only look great but also stand the test of time, ensuring your satisfaction.
Elevate the look of your bathroom with our custom countertop installation services. We offer a variety of materials, including granite, marble, and quartz, allowing you to choose the perfect countertop that complements your bathroom's style.
Proper lighting can transform your bathroom into a tranquil retreat. Our expert lighting solutions cater to both functionality and ambiance, creating an atmosphere that suits your needs, whether it's bright and energetic or soft and relaxing.
Adequate ventilation is crucial to prevent moisture-related issues in your bathroom. Our team installs efficient ventilation systems to maintain a dry and healthy environment, ensuring your bathroom's longevity.
We understand that every homeowner has unique preferences. That's why we encourage customization to make your bathroom renovation truly yours. Whether it's adding a luxurious bathtub, a spa-like shower system, or other unique touches, we're here to bring your vision to life.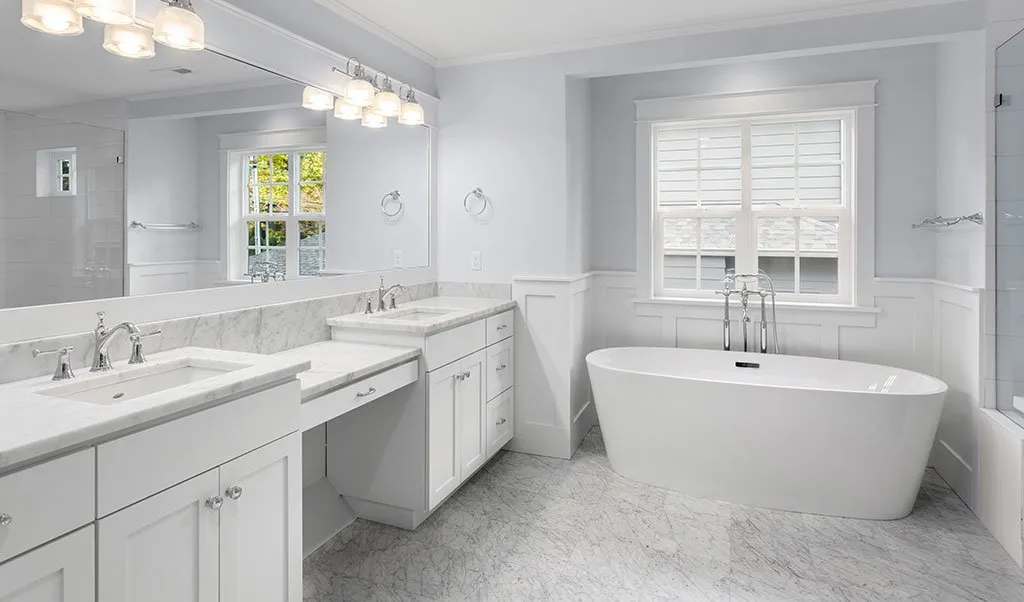 Reasons to Hire a Professional Bathroom Renovation Service
Hiring a professional bathroom renovation service is a choice laden with benefits. In this section, we will elucidate the compelling reasons why entrusting your project to experts is a smart move.
Award Winning Residential Design-Build Firm
Opt for the Best Bathroom Renovation Service with Pure Builders Inc
In Pacific Palisades, bathroom renovation isn't just a service; it's an art form. Pure Builders Inc combines quality craftsmanship with stylish design to give you a bathroom that's more than just a room, it's an experience. Whether you seek a modern spa-like retreat or a classic and timeless design, our professional remodelers are dedicated to turning your vision into reality. Elevate your bathroom experience with Pure Builders Inc, where quality truly meets style. Call us now at (888) 240-5955.
LEARN MORE ABOUT BATHROOM REMODELLING
Frequently Asked Questions
How long does a bathroom renovation typically take?
The duration of a bathroom renovation varies depending on the scope of the project, but our team strives to complete most renovations within a few weeks.
Can I choose my materials and fixtures?
Absolutely! We encourage customization, and you can choose your preferred materials and fixtures to match your style and budget.
Do I need a permit for a bathroom renovation?
The need for a permit varies by location and the scope of your renovation. In some cases, simple cosmetic updates may not require a permit, but major structural changes typically do. It's essential to check with your local building department.
What are some popular design trends for bathroom renovations?
Popular trends include walk-in showers, freestanding tubs, the use of natural materials like stone and wood, and energy-efficient fixtures. Consult with a designer for ideas tailored to your preferences.
How can I make my bathroom more energy-efficient during a renovation?
You can improve energy efficiency by installing low-flow toilets, LED lighting, energy-efficient ventilation, and using insulation to prevent heat loss. These upgrades can save you money in the long run.