Are you tired of walking into your bathroom and feeling uninspired by its lackluster appearance? Do you dream of stepping into a space that exudes elegance, relaxation, and modernity? If so, then your search ends here. Pure Builders Inc is the ultimate destination for those seeking unparalleled bathroom remodeling in Thousand Oaks. With a commitment to excellence and a proven track record of transforming bathrooms into luxurious havens, Pure Builders Inc stands as the torchbearer of innovation and creativity in the realm of home renovation.
Pure Builders Inc's Bathroom Remodeling in Thousand Oaks
At the heart of Thousand Oaks lies a gem of a remodeling company, Pure Builders Inc. Renowned for our expertise, creativity, and dedication, we have mastered the art of turning dreams into reality. With a team of skilled professionals who possess an unwavering passion for their craft, Pure Builders Inc ensures that your vision for your bathroom is not just realized, but is elevated to a level that surpasses your expectations.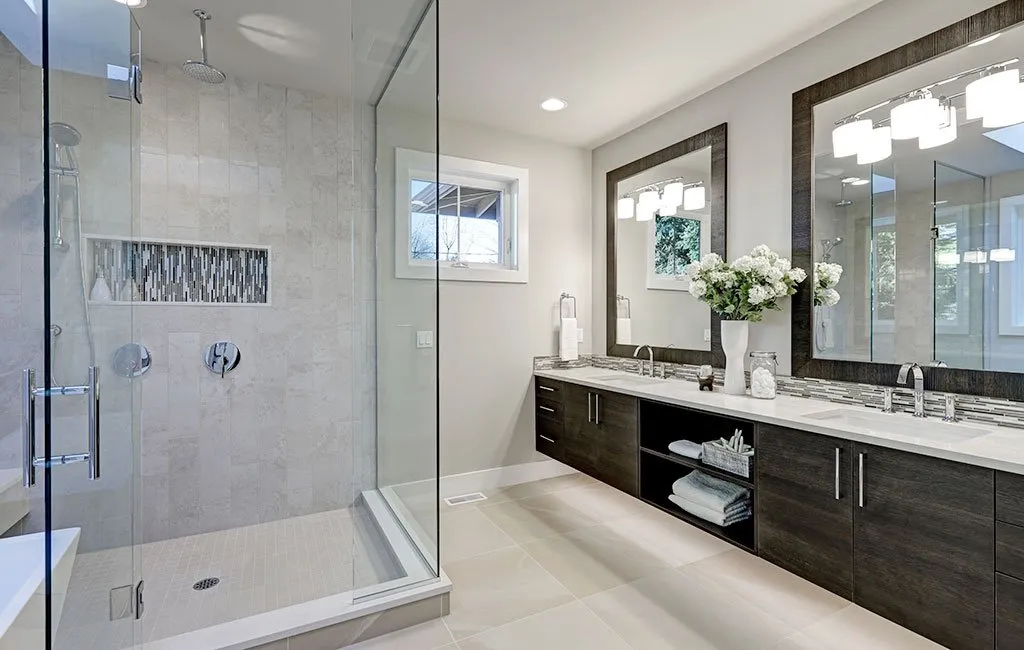 Bathroom Renovations
A bathroom is not merely a utilitarian space; it is an extension of your personality and lifestyle. Pure Builders Inc understands this philosophy and approaches each bathroom renovation project with an artist's eye and a homeowner's sensibility. Our team of designers and craftsmen collaborate to breathe life into your ideas, ensuring that your bathroom becomes a true reflection of your unique taste. Here are some of the services we offer under our bathroom renovations:
Full Bathroom Renovation
When it comes to a complete transformation, Pure Builders Inc is the name to trust. Our full bathroom renovation services encompass every aspect of your bathroom, from the floor to the ceiling. Whether you envision a contemporary oasis or a classic retreat, Pure Builders Inc's team of experts will bring your dream to life.
Shower and Tub
Picture yourself stepping into a shower that transports you to a soothing rainfall in a tropical paradise. Or imagine sinking into a bathtub that envelops you in a world of relaxation. Pure Builders Inc specializes in creating these breathtaking experiences. With mastery over the intricate details of designing showers and tubs, we turn these functional elements into awe-inspiring focal points.
Toilet Placement
The placement of a toilet might seem like a mundane consideration, but in the hands of Pure Builders Inc, it becomes an art. Our experts meticulously analyze the layout of your bathroom, taking into account factors such as convenience, privacy, and aesthetics. The result? A thoughtfully placed toilet that seamlessly integrates into the overall design, enhancing both functionality and beauty.
Vanities
Vanities are the unsung heroes of a bathroom. They not only provide storage but also set the tone for the room's style. Pure Builders Inc offers an exquisite array of vanity designs, ranging from sleek modern aesthetics to timeless classics. Each vanity is carefully chosen or custom-crafted to harmonize with the theme of your bathroom, creating a cohesive and harmonious ambiance.
Lighting
The right lighting can make or break the atmosphere of a bathroom. Pure Builders Inc understands the importance of lighting as an integral design element. We skillfully integrate innovative lighting solutions that not only illuminate the space but also enhance the overall mood. Say goodbye to harsh, unflattering lighting and embrace the warm glow of a perfectly illuminated bathroom.
Small Bathroom Remodel
Limited space doesn't mean you have to compromise on luxury. Pure Builders Inc specializes in transforming small bathrooms into havens of comfort. Through clever utilization of space-saving fixtures, creative storage solutions, and strategic use of colors and mirrors, we create an illusion of spaciousness, making even the tiniest of bathrooms feel inviting and open.
Why Choose Pure Builders Inc for Bathroom Remodeling Services
In a world full of options, why should Pure Builders Inc be your top choice for bathroom remodeling services? The answer lies in our unwavering commitment to excellence and our dedication to turning your dreams into reality.
Expertise and Experience
With a wealth of experience under our belt, Pure Builders Inc's team of experts possesses an in-depth understanding of the intricacies of bathroom remodeling. Our years of hands-on experience allow them to approach each project with a keen eye for detail and a mastery over the nuances of design and construction.
Customized Solutions
Your bathroom should be a reflection of your personality, a space that resonates with your individuality. Pure Builders Inc acknowledges this, which is why we don't offer cookie-cutter solutions. Instead, we collaborate with you to create a design that aligns perfectly with your preferences and lifestyle.
Quality Craftsmanship
At Pure Builders Inc, craftsmanship is not just a buzzword – it's a way of life. Our team of skilled craftsmen takes immense pride in our work, ensuring that every detail, from the choice of materials to the finishing touches, meets the highest standards of quality.
Comprehensive Services
Embarking on a bathroom remodeling journey can be overwhelming, with numerous decisions to be made and steps to be taken. Pure Builders Inc simplifies this process by offering comprehensive services that cover everything from the initial design concept to the final installation. This seamless approach ensures that your project is executed smoothly.
Transparent Communication
Communication is the cornerstone of any successful project. Pure Builders Inc understands this and maintains open and transparent communication throughout the remodeling process. From discussing design ideas to providing project updates, we keep you informed every step of the way, ensuring that your vision is realized exactly as you envision it.
Timely Completion
Bathroom remodeling projects are notorious for disrupting daily routines. Pure Builders Inc recognizes the importance of minimizing inconvenience. With a commitment to adhering to realistic timelines, we work diligently to complete your project on schedule, allowing you to enjoy your newly remodeled bathroom sooner rather than later.
Positive Reputation
A reputation is earned through actions, and Pure Builders Inc's reputation speaks volumes. Our numerous satisfied clients attest to our consistent delivery of exceptional results. With a track record of success stories and satisfied homeowners, you can trust that your bathroom remodeling project is in capable hands.
Warranties
Pure Builders Inc's commitment to your satisfaction goes beyond the completion of the project. We offer warranties that reflect our confidence in the quality of our work. These warranties provide you with peace of ourmind, knowing that any issues that may arise will be addressed promptly and effectively.
Client Satisfaction
Ultimately, the measure of success in the remodeling industry lies in client satisfaction. Pure Builders Inc prides itself on placing your happiness at the forefront. From the initial consultation to the final walkthrough, our focus on your needs and desires ensures that you are not just pleased with the results – you are delighted.
Your Top Choice for Bathroom Remodeling in Thousand Oaks
Pure Builders Inc is the epitome of innovation and craftsmanship in bathroom remodeling. With our team of expert remodelers, commitment to quality, and dedication to bringing visions to life, we offer a gateway to bathrooms that transcend the ordinary. Transforming bathrooms from functional spaces to luxurious retreats, Pure Builders Inc invites you to embark on a journey of elegance and style. Call us now at (888) 240-5955 for unmatched bathroom remodeling services.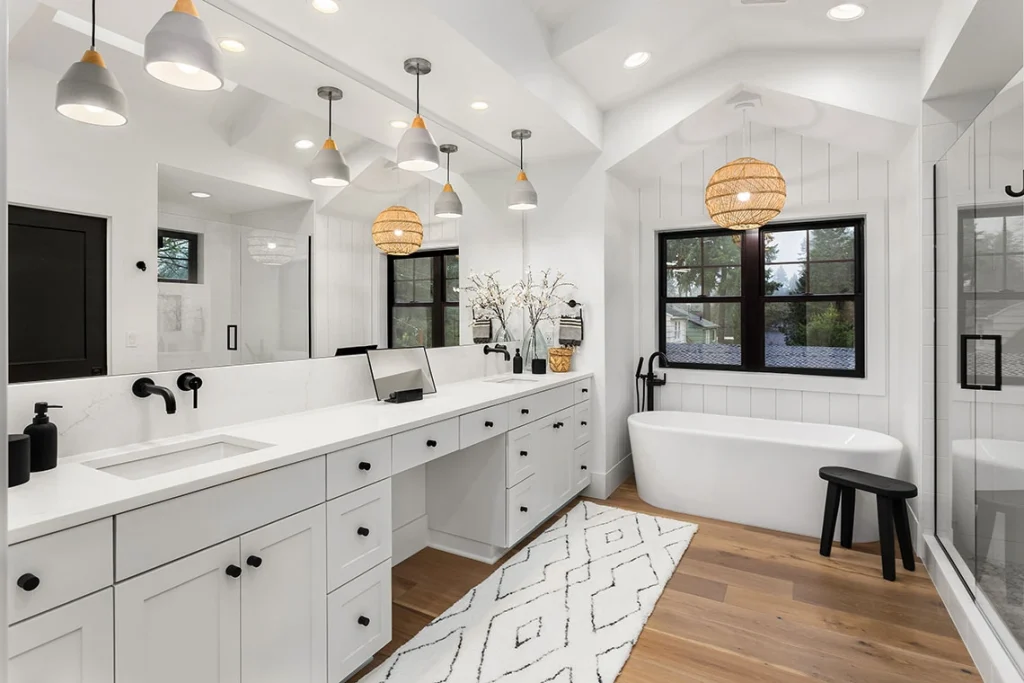 Frequently Asked Questions
What's the average cost of bathroom remodeling?
The cost varies based on size and scope. Basic updates might be $10,000-$20,000, while upscale renovations can go over $50,000.
How long does a bathroom remodel take?
Simple changes take 1-2 weeks. Extensive renovations might last 3-6 weeks or more.
What are popular bathroom design trends?
Spa vibes with rainforest showers, neutral colors, open shelves, and smart fixtures are trending.
Can I make a small bathroom look bigger?
Yes, use light colors, large mirrors, glass enclosures, and wall-mounted fixtures to create a sense of space.
How to choose the right remodeling contractor?
Check experience, reviews, licenses, and insurance. Get a detailed contract and ensure clear communication. Compare quotes before deciding.