Bathroom Remodeling Company Woodland Hills
The bathroom is possibly the most important room in your house. Once you neglect it, the whole nasty mood will soon be in your entire home. This is why investing in Bathroom Remodeling Woodland Hills is going to do wonders for you.
Maintenance is important, but replacing all the broken elements will increase your safety for years to come.
Over time, your bathroom might suffer different signs of deterioration, especially because of the water. This is why you should always check the drain and the supply systems for any possible leaks.
Moreover, the moisture caused by hot steam can make the humidity infiltrate easier in the walls of your bathroom. So, mold and bacteria develop and they will pose health risks sooner or later. Also, it is important not to overlook the broken tiles or the peeling ceiling.
Besides, you should check your toilet and see if there are signs of worn insulation. Again, you shouldn't tolerate such problems as sewer line clogs, broken tanks, or loose connections.
Basically, everything that doesn't look perfect in your bathroom will need a proper fixture eventually.
And, this is where your experts from Pure Builders come into action!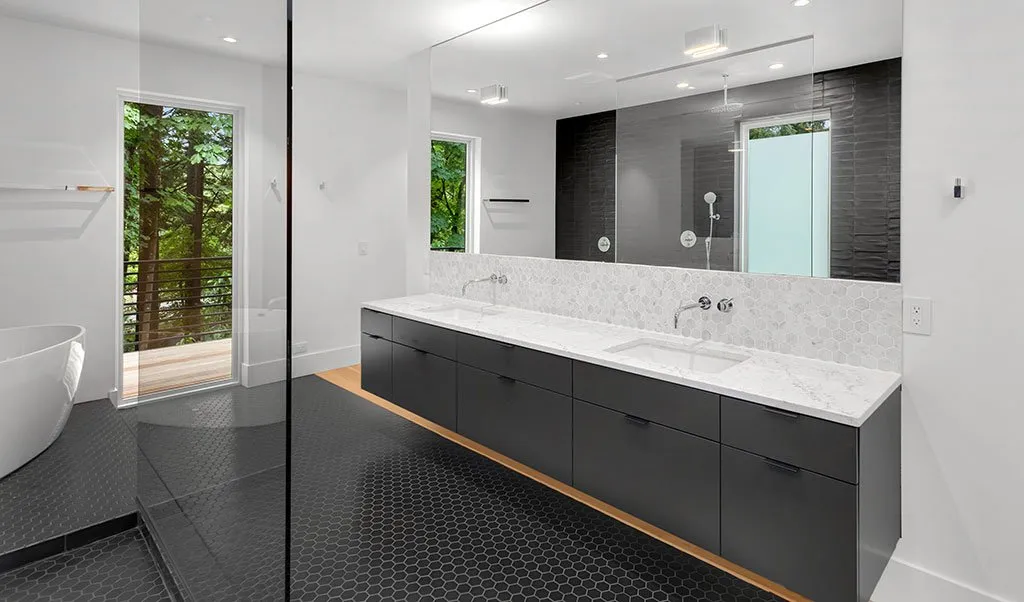 Bathroom Remodeling Contractor Woodland Hills
With great attention to details, we'll transform your bathroom into a place where you can unwind for hours.
Do you want a master bathroom where you can start the day right? Do you like a high-class design that puts you in the right mood as soon as you walk in? Or maybe you've always desired a big bathtub where you can rejuvenate after a hard day?
Our in-house team of experienced architects and engineers will turn even your wildest ideas into reality.
From a crowded and dark place, we will brighten your bathroom, turning it into a beautiful place.
At the same time, we'll add space and class to your place with the perfect bathroom vanities and cabinets. What's more, we'll improve the functionality of your space by decluttering it.
Plus, with our 3D design, you can better visualize the style, size, or the colors of your new bathroom. This way, you can make decisions based solely on your preferences and needs.
General Contractor Woodland Hills
The bathroom should have that perfect balance between a trendy design and a classy, well-maintained space. However, it has to combine well with the already existing design in your home. Otherwise, it might look a bit out of place and the satisfaction won't be the same anymore.
But with our experts' help, you can forget about these problems!
Bathroom Remodeling Woodland Hills
With 20 years of experience in the field, your satisfaction is our business card. And our happy clients can confirm it too!
In fact, you don't have to take our word for it! This is because, upon request, we can provide you with our customers' referrals.
Worried about the cost of bathroom remodeling? We can assure you that there is no reason to do that.
Just give us a call and get you free estimate today!