Welcome to a world where your culinary dreams take center stage! Pure Builders Inc invites you to embark on a remarkable journey of kitchen remodeling in Thousand Oaks. Our expert team is poised to turn your kitchen into an exquisite masterpiece, blending form, function, and style seamlessly. From demolition to the finest details, we're here to bring your vision to life. Get ready to unlock a realm of possibilities and elevate your cooking haven with our unrivaled kitchen remodeling services.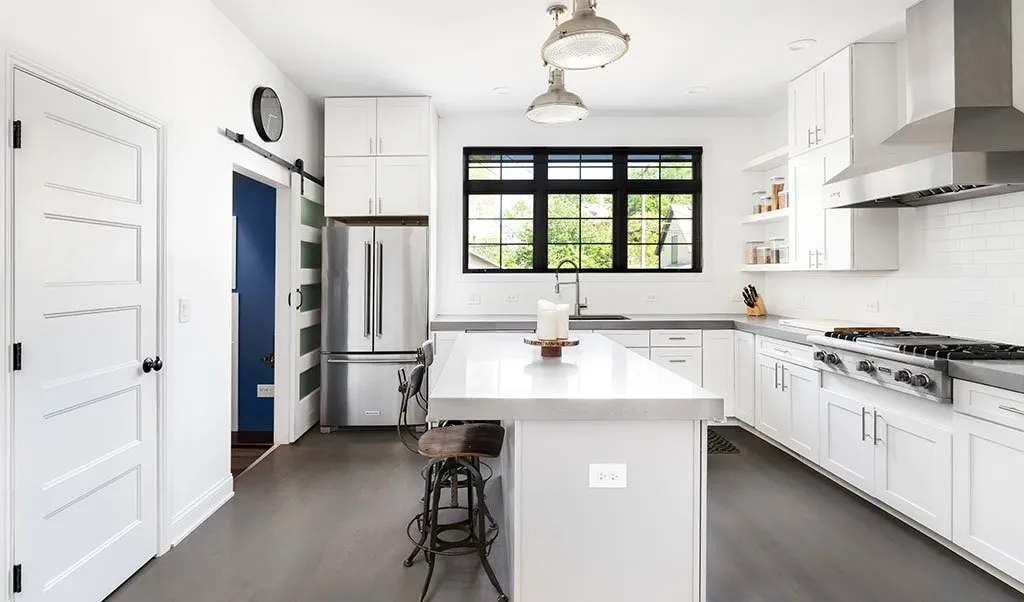 Services Included in Our Kitchen Remodeling Service
Elevate your kitchen experience with our comprehensive remodeling services. From demolition to cabinet installation, each step is carefully tailored to transform your kitchen into a culinary haven. Here's a close look:
Demolition
Before the magic begins, we carefully remove the old, making space for the new. Our skilled team handles the demolition process swiftly and efficiently, ensuring a clean slate for your kitchen transformation.
Installing New Fixtures
Out with the old, in with the new! We bring your kitchen to life by installing top-notch fixtures that blend functionality and style seamlessly. From sleek and modern to classic and timeless, the choice is yours.
Painting
Color has the power to breathe life into any space. Our expert painters work their magic, applying strokes of your chosen shades to create an ambiance that resonates with your culinary aspirations.
Flooring
The foundation of a perfect kitchen lies in its floors. We offer a wide array of flooring options that not only look stunning but also stand the test of time. Say goodbye to worn-out tiles and hello to durable elegance.
Cabinet Installation
Out with the old, in with the new! We bring your kitchen to life by installing top-notch fixtures that blend functionality and style seamlessly. From sleek and modern to classic and timeless, the choice is yours.
Enhancing Kitchen Fixtures in Thousand Oaks
Experience a kitchen upgrade like no other. Discover a range of exquisite kitchen faucets and sinks that combine functionality and style, adding a touch of elegance to your cooking space.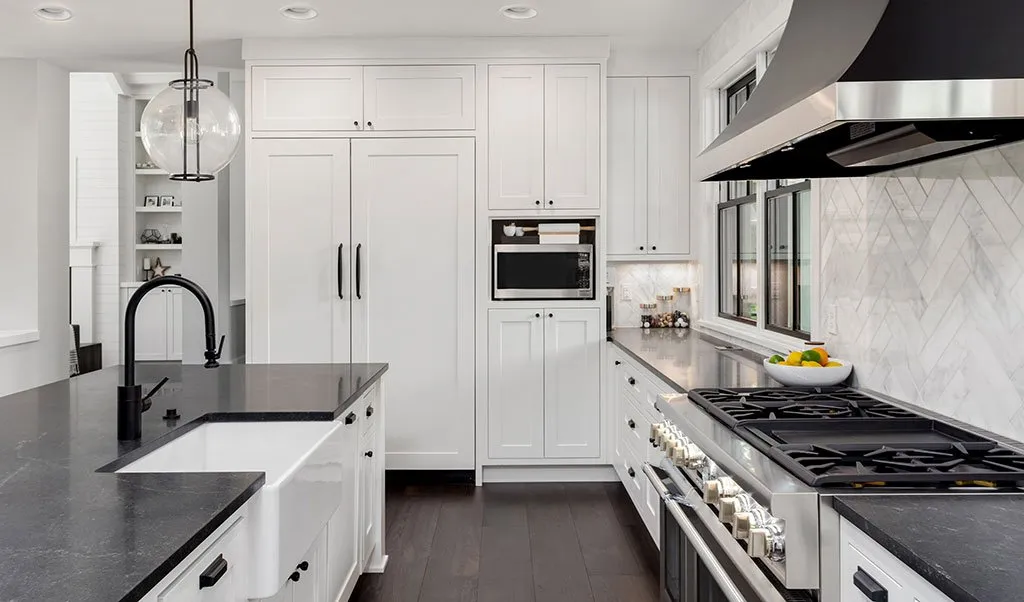 Kitchen Faucets: The heart of your kitchen deserves nothing but the best. Our range of premium kitchen faucets marries form and function, making everyday tasks a joy. From classic designs to modern marvels, we have your faucet needs covered.
Kitchen Sinks: Say goodbye to mundane and hello magnificent with our collection of kitchen sinks. Whether you seek sleek stainless steel or a farmhouse flair, we have the perfect sink to complement your kitchen's aesthetic.
Hire Pure Builders Inc for Kitchen Remodeling in Thousand Oaks
Turn your kitchen dreams into reality with Pure Builders Inc. Our team's expertise, customized design solutions, and commitment to quality ensure a stress-free journey to your perfect kitchen. Here are a few reasons why you should hire us for kitchen remodeling services in Thousand Oaks:
Experience and Expertise
With years of experience under our belts, we bring a wealth of expertise to every project. Our team's skills have been honed through countless transformations, ensuring your kitchen is in capable hands.
Customized Design Solutions
Your kitchen should reflect your unique style. We work closely with you to create a design that resonates with your vision, ensuring that every detail aligns with your dream kitchen.
Quality Craftsmanship
We take pride in our meticulous craftsmanship. Each element of your kitchen is carefully crafted to perfection, guaranteeing a result that not only looks exquisite but also stands the test of time.
Comprehensive Services
From concept to completion, we handle every aspect of your kitchen remodel. You can trust us to manage the entire process, leaving you with a stress-free experience and a stunning kitchen.
Transparent Communication
We believe in keeping you informed every step of the way. Our transparent communication ensures that you are always up-to-date with the progress of your project, fostering trust and peace of mind.
Client Satisfaction
Your satisfaction is our ultimate goal. We take immense pride in seeing your delighted smile as you step into your newly transformed kitchen, ready to create culinary wonders.
Licensed and Insured
Rest easy knowing that you're working with a licensed and insured team. Your investment is protected, and you can have confidence in the legality and security of every aspect of the project.
Positive Reputation
A reputation is earned through actions, and Pure Builders Inc's reputation speaks volumes. Our numerous satisfied clients attest to our consistent delivery of exceptional results.
Green and Sustainable Practices
We are committed to a greener future. Our sustainable practices minimize environmental impact while maximizing the beauty and functionality of your kitchen.
Elevate Your Home with Stunning Kitchen Remodeling in Thousand Oaks
Your dream kitchen is not just a fantasy; it's a tangible reality waiting to be unveiled. With Pure Builders Inc by your side, kitchen remodeling in Thousand Oaks becomes an exciting journey of transformation and creativity. Let our expert kitchen remodelers craft a culinary masterpiece that reflects your style, elevates your cooking experience, and adds value to your home. Call us today at (888) 240-5955.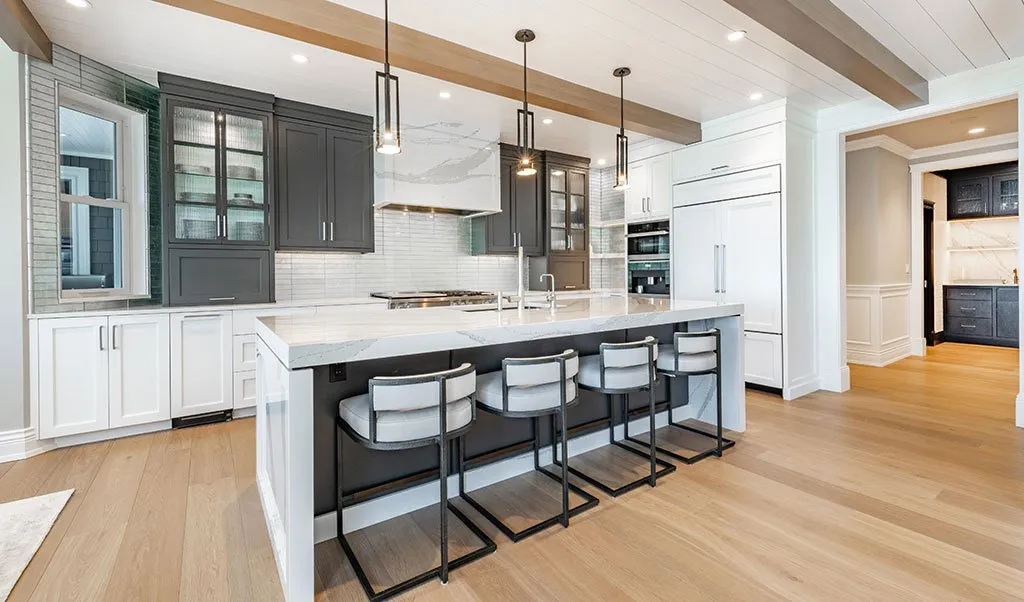 Frequently Asked Questions
How long does a kitchen remodeling project usually take?
The timeline varies based on the scope of the project. We work efficiently to complete the transformation while ensuring top-notch quality.
Can I choose my own kitchen fixtures and materials?
Absolutely! We collaborate closely with you to bring your vision to life. Your input is invaluable in creating your dream kitchen.
Are your services budget-friendly?
We offer tailored solutions to fit various budgets. Our goal is to deliver exceptional value and quality within your desired investment range.
What sets Pure Builders Inc apart from other remodeling services?
Our unwavering commitment to quality, transparent communication, and comprehensive services make us your ideal partner in kitchen remodeling. Your satisfaction is our priority.
How can I get started on my kitchen remodeling project?
Simply get in touch with us through our website or give us a call. We'll schedule a consultation to discuss your ideas and initiate the journey to your dream kitchen.