New Construction Service in Calabasas, CA
Pure Builders Inc. in Calabasas, CA, stands as a beacon of excellence in the realm of construction and design. Our unwavering commitment is to transform your dream home into a living reality. At the heart of our success is a team of seasoned professionals comprising architects, engineers, and builders who bring a wealth of expertise to every project.
With a legacy of years in the industry, Pure Builders Inc. has established itself as a trusted name synonymous with exceptional craftsmanship and an unwavering dedication to detail. Each member of our team embodies a passion for creating spaces that not only meet your expectations but exceed them in every conceivable way.
Crafting Dreams Into Reality
Custom Home Design and Build
Create the home you've always envisioned with our custom design and build services. Our team will work closely with you to understand your unique preferences, ensuring every detail reflects your style and needs. From concept to completion, we're committed to delivering excellence.
Architectural Planning and Permits
Navigating through the intricacies of permits and zoning regulations can be daunting. Our experts specialize in obtaining the necessary approvals, ensuring a seamless construction process. We'll handle all the paperwork, so you can focus on envisioning your new space.
Contribute to a sustainable future with our green building options. We incorporate eco-friendly materials and energy-efficient designs, reducing your carbon footprint without compromising on quality or style. Experience a home that's both beautiful and environmentally conscious.
Renovations and Additions
Transform your existing space into a modern masterpiece. Whether it's a kitchen remodel, bathroom upgrade, or a room addition, our skilled craftsmen will enhance the functionality and aesthetics of your home, adding value and comfort. Trust our skilled craftsmen to enhance your home's value.
Project Management and Consultation
Rest easy knowing your project is in capable hands. Our dedicated project managers oversee every aspect, from scheduling to quality control, ensuring a timely and flawless execution. We also offer consultation services to guide you through every decision.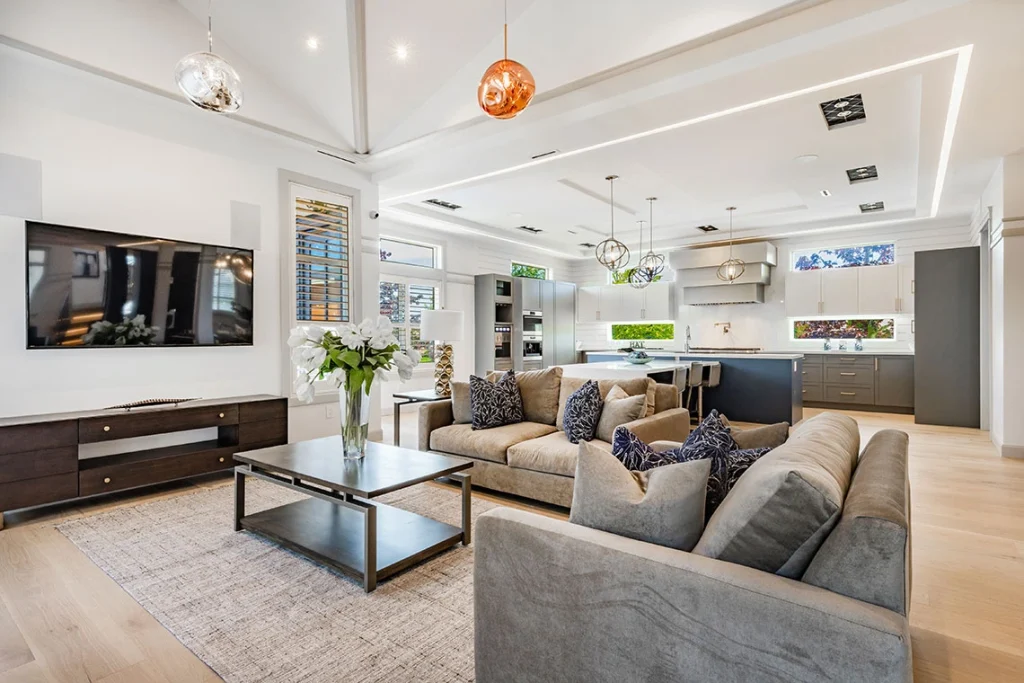 Trusted Name in Calabasas, CA
Benefits of Choosing Our Services
Award Winning Residential Design-Build Firm
Frequently Asked Questions
What is the typical timeline for a new construction project?
The timeline depends on various factors such as the size and complexity of the project. On average, a new construction project can take anywhere from 6 months to a year to complete. Our team will provide you with a detailed timeline during the consultation phase.
Can I make changes to the design after construction has started?
While some alterations can be accommodated, it's important to finalize the design before construction begins to avoid delays and additional costs. Our team will work closely with you during the planning phase to ensure your vision is accurately captured.
Do you handle all necessary permits and approvals?
Yes, we take care of all the required permits and approvals. Our team is well-versed in local regulations, ensuring a smooth process from start to finish. You can rest assured knowing that all necessary paperwork will be taken care of.
What sustainable practices do you incorporate into green building solutions?
We are committed to eco-friendly construction practices. Our green building solutions may include the use of recycled materials, energy-efficient systems, and sustainable construction methods. We'll work with you to incorporate environmentally conscious elements into your project.
How do you ensure quality craftsmanship?
Quality is our top priority. We have a rigorous quality control process in place at every stage of construction. Our skilled craftsmen are experienced and trained to deliver the highest standards of workmanship, ensuring your project meets and exceeds expectations.
What sets your project management apart?
Our dedicated project managers oversee every aspect of the project, from scheduling to quality control. They act as a liaison between you and our team, ensuring clear communication and timely updates. Their expertise ensures that your project progresses smoothly and efficiently.
What defines new build construction?
'New Build' is a term that denotes new construction as opposed to the renovations or refurbishment of existing structures. New build can include newly constructed structures of all types such as houses, apartments, office block, hospitals, stadia and so on.
How do you handle unexpected challenges during construction?
Construction projects can encounter unforeseen challenges. Our experienced team is equipped to handle such situations with professionalism and efficiency. We have contingency plans in place to address unexpected issues while keeping the project on track.
Can I schedule a consultation to discuss my project?
Certainly! We encourage you to schedule a complimentary consultation to discuss your ideas, and preferences. Our team is eager to collaborate with you to bring your vision to life.
How can I get started with your services?
To get started, simply contact us to schedule a consultation. We look forward to embarking on this exciting journey together and making your dream home a reality!