Bathroom Remodeling Service in Calabasas, CA
Is your bathroom in need of a makeover? Our Bathroom Remodeling services are designed to turn your bathroom into a sanctuary of relaxation and functionality. From outdated fixtures to cramped layouts, we're here to transform your bathroom into a space that meets your unique needs and style preferences. At Pure Builders Inc, we take pride in delivering bathroom renovations that combine aesthetics with practicality. With attention to detail and a commitment to quality, we'll create a bathroom that not only adds value to your home but also enhances your daily routine. Whether it's a luxurious spa-like retreat or a modern, efficient bathroom, we're the partner you can trust.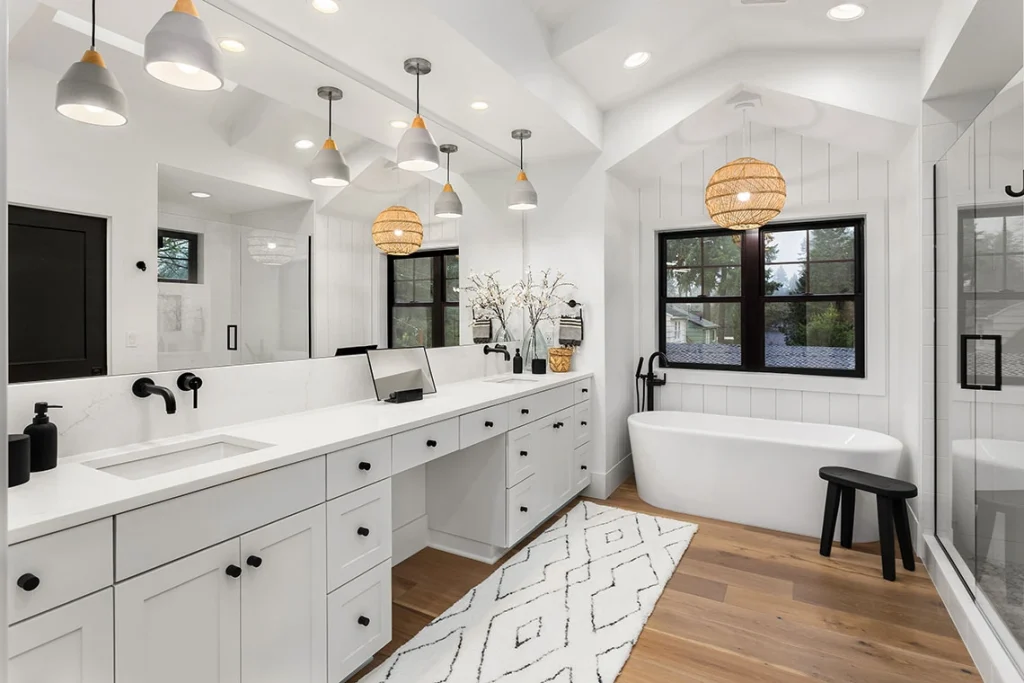 Take Your Bathing Experience to The Next Level
Elevate Your Bathroom with Our Professional Remodeling
Remodeling your bathroom can breathe new life into your home and improve your daily life. Here are some reasons why you might consider our Bathroom Remodeling service:
Our remodeling can make your bathroom more comfortable, with improved layouts and fixtures that better suit your needs.
A well-designed bathroom remodel can significantly increase the value of your home, making it a smart investment.
We can incorporate energy-efficient fixtures and designs to reduce water and energy consumption, saving you money in the long run.
We work closely with you to create a bathroom that reflects your style and preferences, from classic to modern and everything in between.
If you require an accessible bathroom, we can design and remodel it to meet your specific needs.
We optimize the functionality of your bathroom, ensuring it's a space that works efficiently for you and your family.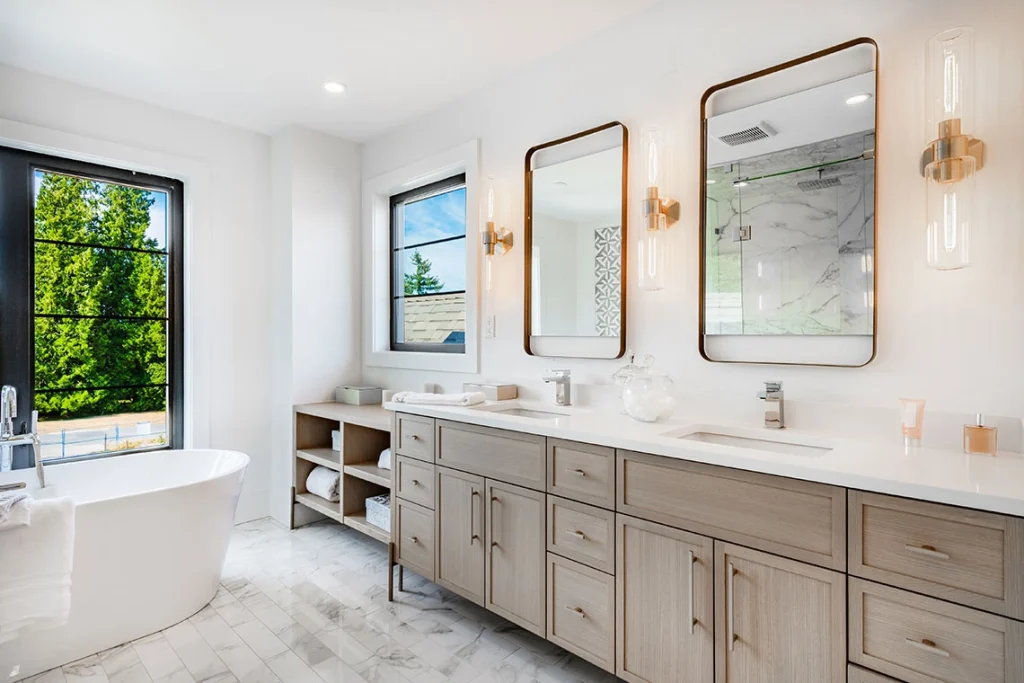 Your Dream Bathroom Is Finally Here
Your Bathroom Remodeling Journey Starts Here
Our expert team is dedicated to turning your bathroom vision into reality, seamlessly integrating innovation, functionality, and aesthetics. Whether it's a small bathroom or a spacious en-suite, we breathe new life into every corner, ensuring a harmonious blend of design and practicality. Get ready to embark on a journey of unparalleled transformation with our comprehensive bathroom remodeling solutions.
Our Bathroom Remodeling Process Exceeds Expectations
We take pride in providing bathroom remodeling services that bring your vision to life. Our streamlined process ensures a smooth journey from concept to the stunning finished result:
We begin with a thorough consultation to understand your bathroom remodeling goals, preferences, and budget. Our expert team listens attentively to your ideas, offering valuable insights and suggestions to enhance the project.
Our skilled designers create detailed plans and layouts based on the consultation. We present you with 2D and 3D renderings, allowing you to visualize the proposed design. Revisions are made until the design aligns perfectly with your vision.
Once the design and materials are finalized, we provide a comprehensive project proposal. This includes a detailed scope of work, timeline, and cost estimates. We're transparent about all aspects to eliminate surprises.
We guide you through a curated selection of high-quality materials, finishes, and fixtures that suit your style and budget. Our partnerships with reputable suppliers ensure a wide range of options.
Before construction begins, we take steps to protect your property. This includes setting up dust barriers, protective coverings, and ensuring proper ventilation to minimize disruptions.
Throughout the remodeling process, we maintain open communication with you. Regular updates on progress, milestones, and any potential adjustments keep you informed and involved.
Award Winning Residential Design-Build Firm
Discover Pure Builders Inc's Bathroom Remodeling
Transform your bathroom into a haven of relaxation and style. Contact Pure Builders Inc at (888) 240-5955 to embark on a bathroom remodeling journey that will redefine your daily routine.
Learn More About Bathroom Remodelling
Frequently Asked Questions
What does a typical bathroom remodeling project involve?
A typical bathroom remodeling project may include tasks such as replacing fixtures, upgrading tile and flooring, reconfiguring layouts, and improving overall functionality and aesthetics.
Is it possible to remodel a small bathroom to make it appear more spacious?
Yes, we specialize in optimizing small bathroom spaces to make them appear larger. We can recommend design and layout changes that create a more open and spacious feel.
Can you help with bathroom design ideas if I'm not sure what I want?
Absolutely, our team of designers can provide you with creative and functional bathroom design ideas to match your style and preferences. We'll work closely with you to find the perfect design.
What types of fixtures and materials are available for a bathroom remodel?
We offer a wide range of fixtures, materials, and finishes for your bathroom remodel, from modern to traditional styles. You can choose from various options for faucets, sinks, countertops, tile, flooring, and more.
Can you convert a bathtub into a walk-in shower in my bathroom?
Yes, we can convert a bathtub into a walk-in shower to improve accessibility and convenience in your bathroom.
What measures do you take to ensure the quality and durability of the materials used in the bathroom remodel?
We source high-quality materials from reputable suppliers to ensure the durability and longevity of your bathroom remodel. Our team is committed to delivering a lasting result.
Do you handle plumbing and electrical work as part of the bathroom remodeling process?
Yes, we have skilled professionals who can handle plumbing and electrical work as needed to complete your bathroom remodeling project.
Can you incorporate energy-efficient features into my bathroom remodel to save on utility costs?
Certainly, we can include energy-efficient fixtures and features in your bathroom remodel to help reduce water and energy consumption, ultimately saving you money on utility bills.
What is the estimated timeframe for completing a typical bathroom remodeling project?
The timeline for a bathroom remodeling project can vary depending on the scope of work. During our initial consultation, we'll provide you with an estimated timeframe based on your project's specifics.
How can I get started with my bathroom remodeling project?
To get started, simply contact us at (888) 240-5955 to schedule a consultation. Our team will assess your needs, discuss your ideas, and guide you through the process of transforming your bathroom.