In today's modern world, where sleek and contemporary designs dominate, there's a growing trend toward incorporating rustic elements into interior design. Rustic bathrooms, in particular, offer a charming and cozy ambiance that can transform your space into a soothing retreat. If you're looking to remodel your bathroom and infuse warmth and character into it, here are ten rustic bathroom ideas that will inspire you.
Rustic Bathroom Design: Key Elements
Before diving into specific ideas, let's explore the key elements that define rustic bathroom design. These elements contribute to the overall rustic aesthetic and set the foundation for creating an inviting space:
Natural materials:

Rustic bathrooms often feature natural materials like wood, stone, and metal. These materials add texture and warmth, creating a sense of organic beauty.

Warm color palette:

Earthy tones, such as browns, beiges, and warm grays, are commonly used in rustic bathrooms. These colors evoke a cozy and welcoming atmosphere.

Vintage-inspired fixtures:

Antique or vintage fixtures, such as faucets, light fixtures, and hardware, enhance the rustic charm of the bathroom.
Now, let's delve into the ten rustic bathroom ideas that can elevate the style of your space.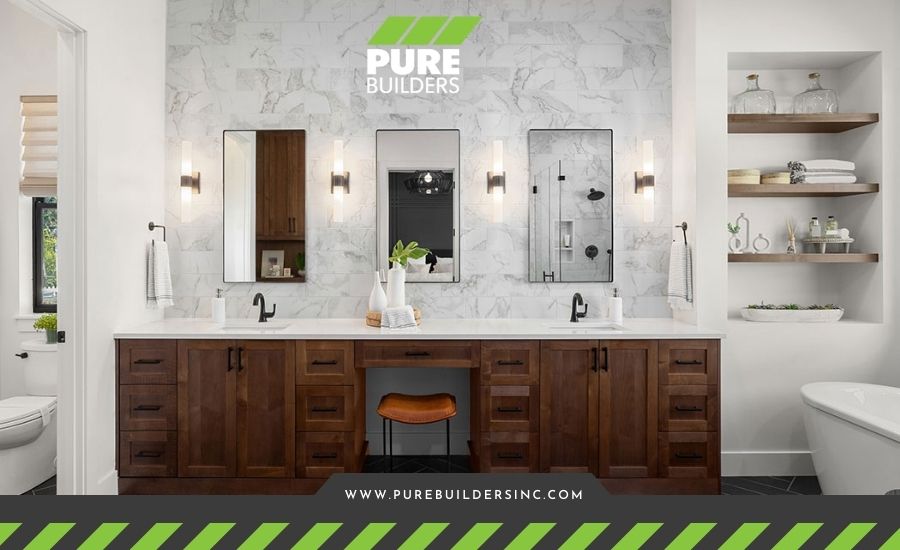 Whether you prefer a modern rustic look or a more traditional approach, this collection will inspire you with a variety of ideas to transform your bathroom into a rustic oasis. Let's dive in and explore these delightful rustic bathroom ideas!
Wooden Vanity with Copper Sink
A wooden vanity with a copper sink is a perfect centerpiece for a rustic bathroom. The combination of natural wood and the warm glow of copper creates a visually striking focal point. Pair it with a distressed mirror and vintage-inspired lighting fixtures to complete the look.
Introduce a touch of rugged beauty to your bathroom by adding a stone accent wall. Choose from various stone options like stacked stone, river rock, or natural slate to create a rustic backdrop. This feature adds depth and texture, giving your bathroom a unique and captivating appeal.
Clawfoot Bathtub with Rustic Surroundings
Upgrade your bathing experience with a classic clawfoot bathtub. Its elegant design and nostalgic charm make it an excellent choice for a rustic bathroom. To enhance the rustic feel, consider surrounding the bathtub with reclaimed wood paneling or exposed brick walls.
Exposed Beams and Wooden Ceiling
Expose the architectural beauty of your bathroom by showcasing the wooden beams and ceiling. This design element adds a rustic touch while infusing a sense of openness. Apply a natural wood finish or opt for a whitewashed look to create the desired aesthetic.
Mason Jar Lighting Fixtures
Incorporate a whimsical and rustic element with mason jar lighting fixtures. These charming fixtures provide soft and warm lighting, adding a cozy glow to your bathroom. Hang them above the vanity or as pendant lights to infuse rustic charm into your space.
Vintage Mirrors and Hardware
Embrace the vintage appeal by using antique mirrors and hardware in your rustic bathroom. Ornate frames and weathered finishes add character and elegance. Look for salvaged or repurposed pieces to give your bathroom a unique and authentic touch.
Rustic Flooring with Reclaimed Wood
To achieve a complete rustic look, consider installing flooring made from reclaimed wood. The aged and weathered appearance of reclaimed wood adds rustic charm and tells a story of its own. Complement the flooring with natural fiber rugs to create a cozy and welcoming atmosphere.
Open shelving crafted from reclaimed wood or wrought iron provides both functionality and style in a rustic bathroom. Display your favorite towels, candles, and decorative items to add a personal touch. The open shelves create an airy feel while showcasing your rustic accessories.
Natural Stone Countertops
Elevate the rustic charm of your bathroom with natural stone countertops. Materials like granite, marble, or soapstone bring durability and elegance. The natural veining and unique patterns of these stones add visual interest to your space.
Rustic Accessories and Décor
Complete the rustic look of your bathroom with carefully selected accessories and décor. Incorporate elements like woven baskets, vintage signs, and botanical prints to add texture and character. Use natural materials and earthy colors to maintain the cohesive rustic theme.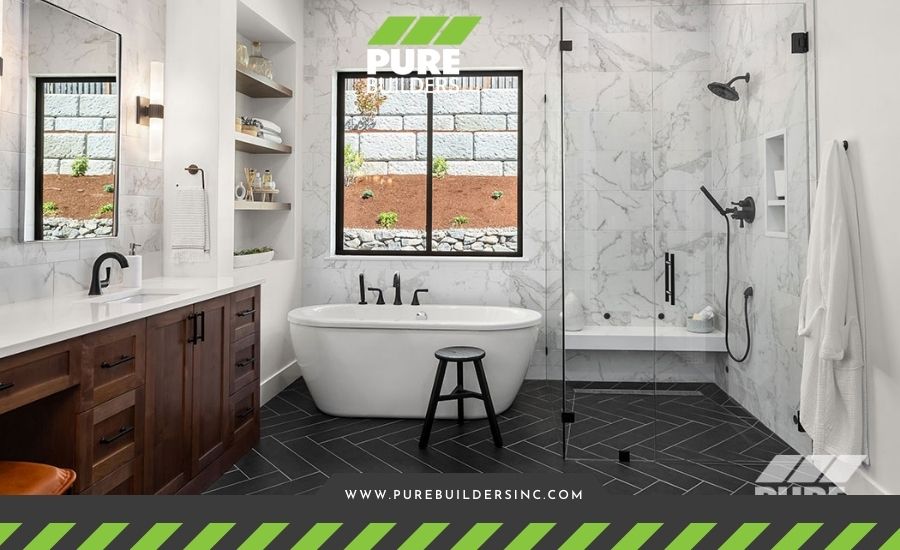 Get in Touch with Pure Builders Inc for More Rustic Bathroom Ideas
With these ten rustic bathroom ideas, you can transform your bathroom into a charming and inviting space. By incorporating natural materials, vintage elements, and warm colors, you can create a unique rustic retreat within your home. If you're ready to transform your bathroom into a rustic haven, Pure Builders Inc can help. With our expertise in home renovations and interior design, we can provide you with personalized ideas and solutions to bring your vision to life. Contact us today and let our team of professional bathroom remodelers guide you through the process.
How can I incorporate a rustic look into a small bathroom?
In a small bathroom, focus on using rustic elements sparingly to avoid overwhelming the space. Opt for smaller vintage-inspired fixtures, like a pedestal sink or a corner vanity, and use lighter colors to create an illusion of spaciousness.
Can I combine rustic design with modern elements?
Absolutely! Mixing rustic and modern elements can result in a unique and visually appealing bathroom. Consider pairing rustic materials and fixtures with sleek and minimalist designs for a striking contrast.
What type of lighting works best in a rustic bathroom?
Soft and warm lighting works best in a rustic bathroom to create a cozy and inviting ambiance. Opt for fixtures with dimmer switches and incorporate natural light as much as possible.
How can I add storage in a rustic bathroom without sacrificing style?
Look for rustic-inspired storage solutions like bathroom cabinets, vintage crates, woven baskets, or wall-mounted shelves. These options not only provide functional storage but also enhance the overall aesthetic of your bathroom.
Can I achieve a rustic look on a budget?
Yes, you can achieve a rustic look on a budget by repurposing items, shopping at thrift stores, or using faux finishes. Get creative with DIY projects and explore affordable alternatives to achieve your desired rustic style.